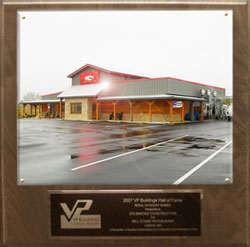 About Us
Drummond Construction, Inc. (DCI) was founded in 1970 as a residential construction company in Logan, Ohio building several sub-divisions throughout the state. Today, Drummond Construction is a fully bonded commercial design/build company offering everything from architectural design and project budgeting to concrete pouring, steel construction and other building services in both the commercial and residential space.
DCI has a full staff of designers, architects and builders to help their customers with every step of the building process. Having all of the necessary talent under one roof reduces the amount of time, money and other resources a customer has to spend on a project.
Over the years, Drummond Construction has been recognized for their architectural and construction work. Recently, Drummond was featured in the Varco Pruden Buildings Hall of Fame for their work on the Millstone BBQ building.
Customer Testimonials
I was the project coordinator for the American Legion Post 11 working with Drummond Construction on a new American Legion Post. For a year I worked with their project coordinator and architect. The experience working with them was pure professionalism. When ever a question came up or a change was in order, they worked quickly to get the job done. The weekly construction meetings were informative and kept us appraised on what part of the construction process was going to take place. The time lines were met and the construction of the Post was completed on time. It was a pleasure to work with such a professional organization.

- Keith Miller, Project Coordinator for the American Legion Post 11
Rocky Brands has utilized Bill Birch and Drummond Constructions on all of our building projects over the past 20 years. We have built a brand new two-story corporate office, and a 200,000 square foot distribution center. We have refurbished two older buildings that were first built in 1920 into attractive, safe, functional properties housing our Rocky Outdoor Retail Store and our corporate financial offices. Frankly, I wouldn't build or remodel anything without calling Bill Birch and Drummond Construction first.

- Mike Brooks, Chairman and CEO of Rocky Brands, Inc.
I contacted Drummond Construction for our most recent expansion to Kumler Collision. Bill Birch came out to the shop, discussed our needs for the building and equipment and pretty much ran with it from there. Drummond worked with our paint booth supplier to plan the most productive location for the paint booths and paint mixing room and designed the expansion plan around those needs. There needed to be extensive floor and utility work to accommodate 2 downdraft paint booths with paint baking capabilities and a 2 car downdraft paint prep station with the same requirements. After completion, I have had none of the typical "I wish we would have" moments as the project turned out great and has significantly improved our throughput and productivity. If the need arises again, we will no doubt call Drummond Construction.
- Dean DeRolph, Owner of Kumler Collision and Automotive